Philatelic Books
NEW:
"P H I L A T E L Y" - Collections of Stamps
New book series of specialized and famous collections of just one country or subject.
Each volume is presenting a professional collection, of which many have been shown and awarded at South Africa's National Stamp Exhibitions or internationally and could also be of interest for some other philatelists to have at home in book form, especially because they are rarely been exhibited again in public.
The first sixteen volumes will be published in April 2018 and are available from our website as listed below. There will be more to come.
All available and upcoming books are in A4 size, full colour excellent printing on 120g paper and perfect bound.
"PHILATELY" will not be a periodical magazine and cannot be subscribed. New issues will be announced on our two websites. At the moment we are planning ca 20+ volumes of "PHILATELY" - Collections of Stamps.
Vol. 1 - CAPE OF GOOD HOPE 1 (The Stamps)

80 pages, (perfect bound), R480 - €28 - £25 - $34
------------------------------------------------------------------------------
Vol. 2 - CAPE OF GOOD HOPE 2 (The Postmarks)

97 pages, (perfect bound), R580 - €34 - £31 - $42
----------------------------------------------------------------
Vol.3 - GREAT BRITAIN, KING EDWARD VIII

95 pages, (perfect bound), R570 - €33 - £30 - $41
------------------------------------------------------------------------------
Vol. 4 - POSTAL TRAINING STAMPS of the World

76 pages, (perfect bound), R460 - €26 - £23 - $33
------------------------------------------------------------------------------
Vol. 5 - EMBOSSED STAMPS of the World

84 pages, (perfect bound), R500 - €29 - £26 - $36
-----------------------------------------------------------------------------
Vol. 6 - GERMANY, The HIGH INFLATION PERIOD 1923

66 pages, (perfect bound), R400 - €23 - £20 - $28
------------------------------------------------------------------------------
Vol. 7 - ERRORS ON STAMPS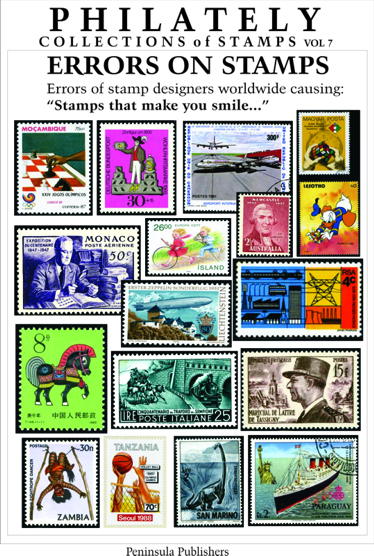 82 pages, (perfect bound), R490 - €26 - £26 - $35
------------------------------------------------------------------------------
Vol. 8 - NORWAY

64 pages, (perfect bound), R385 - €22 - £20 - $28
------------------------------------------------------------------------------
Vol. 9 - SWEDEN

66 pages, (perfect bound), R400 - €23 - £21 - $29
-------------------------------------------------------------------------------
Vol. 10 - DENMARK

62 pages, (perfect bound), R370 - €21 - £19 - $27
--------------------------------------------------------------------------------
Vol. 11 - GREENLAND

105 pages, (perfect bound), R630 - €40 - £36 - $45
--------------------------------------------------------------------------------
Vol. 12 - ICELAND

58 pages, (perfect bound), R350 - €20 - £18 - $25
-------------------------------------------------------------------------------
Vol. 13 - FINLAND

132 pages, (perfect bound), R795 - €46 - £42 - $57
---------------------------------------------------------------------------------
Vol. 14 - FINNISH OCCUPATION AREAS

66 pages, (perfect bound) R400 - €23 - £21 - $28
---------------------------------------------------------------------------------
Vol. 15 - DANISH WEST INDIA

27 pages (saddle stich), R160 - €10 - £9 - $12
--------------------------------------------------------------------------------
Vol. 16 - TIBET

38 pages (saddle stich), R230 - €13 - £12 - $17
--------------------------------------------------------------------------------
Vol. 17 - BASUTOLAND (Forerunner and Postal History)

112 pages (perfect bound), R670 - €42 - £38 - $48
------------------------------------------------------------------------------
Vol. 18 - Cape of Good Hope, The BONC Cancellations, by David Mordant

48 pages (saddle stich), R290 - €16 - £14 - $18
-------------------------------------------------------------------------------
Vol. 19 - MALTA, by Brian Franklin

100 pages (perfect bound), R590 - €35 - £31 - $43
------------------------------------------------------------------------------
Vol. 20 - Pneumatic Mail in Europe, by Volker Janssen

64 pages (perfect bound), R385 - €22 - £19 - $29
-----------------------------------------------------------------------------
Vol. 21 - Bremen, by Volker Janssen

128 pages (perfect bound), R770 - €45 - £41 - $56
-----------------------------------------------------------------------------
Vol. 22 - Simon's Town (Cape of Good Hope) by Volker Janssen

32 pages (saddle stich), R190 - €13 - £12 - $17
----------------------------------------------------------------------------
Vol. 23 - Boer War Concentration Camps, by David Mordant

104 pages (perfect bound), R590 - €40 - £36 - $45
------------------------------------------------------------------------------------------------------------
Vol. 24 - Union of South Africa - Easy Guide to the Building Series
by Danie van Zyl
28 pages (saddle stitch), R160 - €9 - £8 - $11
----------------------------------------------------------------------------
Vol. 25 - BECHUANALAND - by Brian Fenemore

120 pages (perfect bound), R720 - €40 - £35 - $47
---------------------------------------------------------------------------
Vol. 26 - GERMAN REICH 1933 - 1945 ON CARDS AND COVERS

85 pages (perfect bound), R510 - €29 - £26 - $34
-------------------------------------------------------------------------
Please visit our WEBSITE for all Philatelic Items, Books, DVDs & STAMPS: